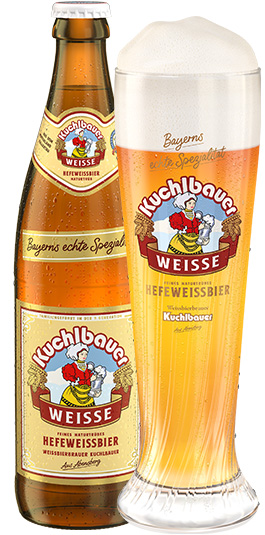 Back to overview
Kuchlbauer Weisse
"A favorite top fermenting, unfiltered wheat beer classic with hints of fruit".
Even before taking a sip, the delicate yeast delights you with its rich golden yellow color and its fine head of foam. The distinctive fruitfulness interspersed with nuances of banana and ripe apricot are accompanied by a refreshing zing. This soft, round-bodied beer meets delicate and mildly bitter hops to present an extremely balanced, harmonious finish that makes you want to drink more every time.
Beer & Food Pairings: Pairs well with everything, especially seafood, sharp cheese varieties and of course, with weisswurst, a traditional Bavarian sausage.
Original Extract: 11.9 %
Alcohol content by volume: 5.2 %
Ingredients: Water, wheat malt, barley malt, hops, yeast
Pale,
unfiltered
wheat beer