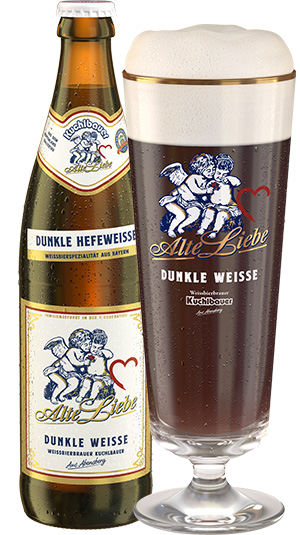 Back to overview
Alte Liebe
"The perfect choice for dark beer aficionados".
The careful composition of wheat malt and gently roasted regional malts give our ALTE LIEBE a dark red mahogany color and a big dose of flavor. Nuances of caramel and cacao dominate the bouquet. These fragrances combine with notes of banana and mango creating a true taste sensation. A meaty foam structure, and hints of nutmeg and vanilla round off this full-bodied, delicious wheat beer delight.
Beer & Food Pairings: Pairs extremely well with hearty meals, game, smoked fish, sharp cheese varieties, cold-cuts and even chocolate cake.
Original Extract: 12.5 %
Alcohol content by volume: 5.2 %
Ingredients: Water, wheat malt, barley malt, hops, yeast
Dark,
unfiltered
wheat beer