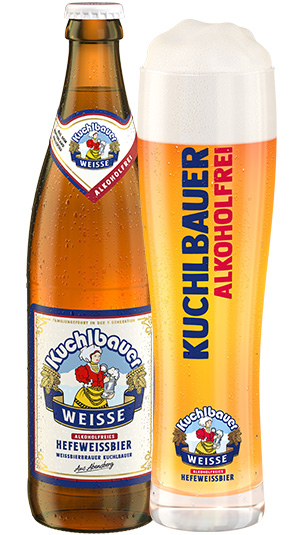 Back to overview
Alkoholfreie Weisse
"The isotonic, refreshing thirst quencher for every occasion".
Visually appealing with an opulent red gold color and a stable yet delicate, creamy head. Our non-alcoholic wheat beer has fruity scents of fresh apple and citrus with hints of mild honey in the background. The slightly tart note of hops embodies the subtle grainy aromas. The thin body and finely integrated bitterness lead to a harmonious finish.
Beer & Food Pairings: Pairs well with light summer meals, sweet & sour dishes and fruit sorbets.
Alcohol content by volume: <0.5 %
Ingredients: Water, wheat malt, barley malt, hops, yeast
Hergestellt und abgefüllt für: Brauerei zum Kuchlbauer GmbH & Co KG, 93326 Abensberg, BR Deutschland / Germany
Pale Wheat Beer
with delicate yeast